FIND YOUR SIZE
All Shoes at our shop are UK and EU sizes.
Place your bare foot on a sheet of paper, with the heel resting against the wall.
Draw a line in front of the longest toe and measure the distance in cm between the edge of the sheet and the line.
Use the underlying table with the lengths and sizes to find your Shoesforkids.ie shoe size.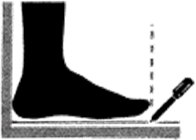 | EU SIZE | US SIZE | UK SIZE | FOOT LENGTH (CM) |
| --- | --- | --- | --- |
| 15 | 1 | 0.5 | 9,00 |
| 16 | 1.5 | 1 | 9,70 |
| 17 | 2 | 2.5 | 10,40 |
| 18 | 3 | 3 | 11,00 |
| 19 | 4 | 3.5 | 11,70 |
| 20 | 4.5 | 4 | 12,40 |
| 21 | 5.5 | 4.5 | 13,00 |
| 22 | 6.5 | 5 | 13,70 |
| 23 | 7 | 6 | 14,40 |
| 24 | 8 | 7 | 15,00 |
| 25 | 8.5 | 7.5 | 15,70 |
| 26 | 9 | 8.5 | 16,40 |
| 27 | 10 | 9 | 17,00 |
| 28 | 10.5 | 10 | 17,70 |
Shoe Size Guide
jdkdksk
EU SIZEUS SIZEUK SIZEFOOT LENGTH (cm)248715,00258.57.515,702698.516,402710917,002810.51017,7029111118,40301211.519,00311312.519,703211320,40332121,003431.521,70353.52.522,40364323,00375423,70385.5524,40396625,00406.56.525,70417726,40
| | | | |
| --- | --- | --- | --- |
| EU SIZE | US SIZE | UK SIZE | FOOT LENGTH (CM) |
| 29 | 11 | 11 | 18.40 |
| 30 | 12 | 11.5 | 19.00 |
| 31 | 13 | 12.5 | 19.70 |
| 32 | 1 | 13 | 20.40 |
| 33 | 2 | 1 | 21.00 |
| 34 | 3.5 | 1.5 | 21.70 |
| 35 | 4 | 2.5 | 22.40 |
| 36 | 4 | 3 | 23.00 |
| 37 | 5 | 4 | 23.70 |
| 38 | 5.5 | 5 | 24.40 |
| 39 | 6 | 6 | 25.00 |
| 40 | 6.5 | 6.5 | 25.70 |
| 41 | 7 | 7 | 26.40 |